Join Bonseye on a beautiful Geiranger boat trip. We provide the best way to experience the Geirangerfjord, where you get close to nature and have by far the most spectacular views. Our employees are passionate about their profession and are committed to giving you a unique experience in what we consider to be Norway's most beautiful nature. A Geiranger boat trip includes seeing famous waterfalls, such as the Seven Sisters, the Friaren, and the Bridal Veil. You get to experience the waterfalls as they should be experienced – from the fjord. Our RIB boats bring you close to the surface of the water and close to the sea spray and the majesty of the steep mountains. In addition to the scenery, we give you the local stories to enhance your experience.
A protected piece of Norway
The Geirangerfjord is part of UNESCO's World Heritage List and has been depicted on countless works of art throughout history – not without reason. Geiranger has also been voted by National Geographic as one of the best-preserved World Heritage sites, and we at Bonseye are proud to be able to do our part to maintain this prestigious location. Our fleet consists of a fully powered electric boat and three low-emission boats. With an electric RIB the only sounds you hear are the ones nature has to offer. Sustainability and care of this beautiful place is a top priority. Feel free to look at our website where we have posted videos and pictures to get more insight into what our boat trips can offer.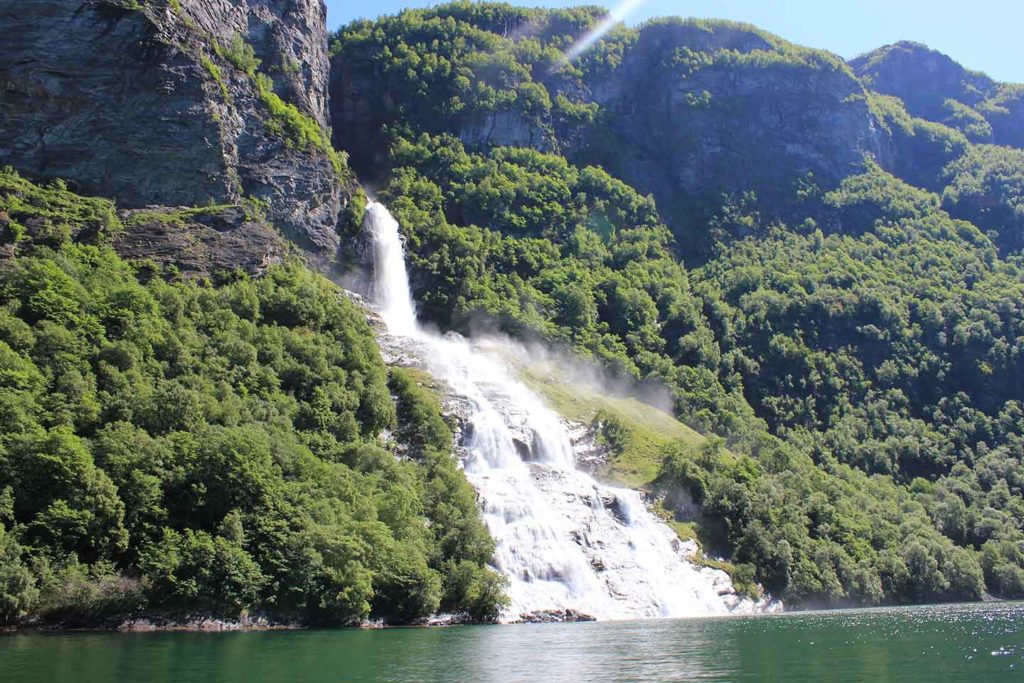 Close to the local stories
Did you know that the right of nobility depends on the fact that a farm must have been in the family for at least four generations? On many of the farms in the Geirangerfjord, the farmer was considered a freeman as early as 1603. There are many clues in the history books that help tell the story of the lives of those who lived in the steep mountains that surround the Geirangerfjord. At Bonseye, we are passionate about conveying our knowledge of those lives to you. We've acquired our knowledge through public archives, village books, and those who have met the last people that lived on these abandoned farms. While some of the farms were taken by avalanches, rockslides, or landslides, many have been restored and can be seen during our Geiranger boat trip.
Contact us today to book your experience. We look forward to showing you the Geirangerfjord's most beautiful views. You can reach us by calling us at 479 63 091, sending an email to post@bonseye.no , or by booking directly on our website. You can also find user reviews and news on our Facebook page, as well as beautiful tour photos on our Instagram account. Should you have any questions or special requests, such as prices or availability, please feel free to contact us directly. We look forward to hearing from you.
FREQUENTLY ASKED QUESTIONS
How long is the boat trip?
Our guided Geiranger boat tour is an hour long. This is a tour that gives you time to enjoy the beautiful surroundings. We make sure you can hear what is being said onboard and we want you to have the opportunity to enjoy your trip. You will see famous waterfalls and farms clinging to the mountainside. Our guides will take you close to the attractions. The Geirangerfjord has the view, our guides have the stories.
How many can you fit on a trip?
Our RIB boats can accommodate up to 12 passengers. If you are a larger group, you can book together. It will vary how many people are on each trip, as Bonseye doesn't need to fill up the boat to have a tour. We take safety and infection control seriously, and all our guides are certified boaters.
What is Geiranger known for?
Geiranger is listed as a UNESCO World Heritage Site, and Geriangerfjord offers magnificent nature experiences. Popular tourist destinations include the Seven Sisters Waterfalls, the Friaren, and the Bridal Veil. Skagefla is an abandoned farm clinging to the mountainside. When you see it, it is easy to think about the kind of lives the farmers lived up there. Our guided Geiranger boat tour takes you past all these famous places, so you can sit back and enjoy the view.
What kind of clothes should I wear?
Our boats are open and are low to the water surface to give you the best experience. You can borrow a flotation suit from us, which will protect you from all kinds of weather. You don't have to worry with what clothes to wear and can focus on enjoying the ride. We promise an experience of a lifetime in some of the most spectacular scenery Norway has to offer. Just remember to bring a camera or fully charged cell phone, because there will be plenty of opportunities to take pictures.
Are RIB boats safe?
Due to damage related to ocean rafting, RIB boats have gained a frayed reputation that is difficult to shake. However, Bonseye does not do sea rafting – the Geirangerfjord is a closed fjord system with small waves. Since our inception in 2015, we have not had a single injury among either passengers or crew. Additionally, each passenger is insured through Gjensidige. In other words, there's nothing to worry about.
RELATED ARTICLES