Welcome to our fantastic RIB tour – perhaps taken in a boat for the future that is completely electric? We have a fully operational electric boat in addition to lowemission boats and we are proud to offer a sustainable alternative that provides a unique experience on the fjord. Explore Geiranger in a whole new way – we stand for safety and a holistic nature experience.
An exciting experience
This is the trip for those who love history, beautiful surroundings, and excitement with the world's most beautiful nature as a backdrop. Experience the Geirangerfjord in a RIB boat, fast and powerful but at the same time quiet, with skilled dedicated guides who are from the local area and are very knowledgeable about the region. We ensure you both an adventure and fresh sea spray in your hair, an experience you will revisit in your memories for a long time after everyday life resumes.
Would you like to book a boat trip in Geiranger? Contact us by phone +47 479 63 091, send an email to post@bonseye.no , or book directly on our website. Should you have any questions or special requests, such as prices and availability, please feel free to contact us directly. We look forward to hearing from you!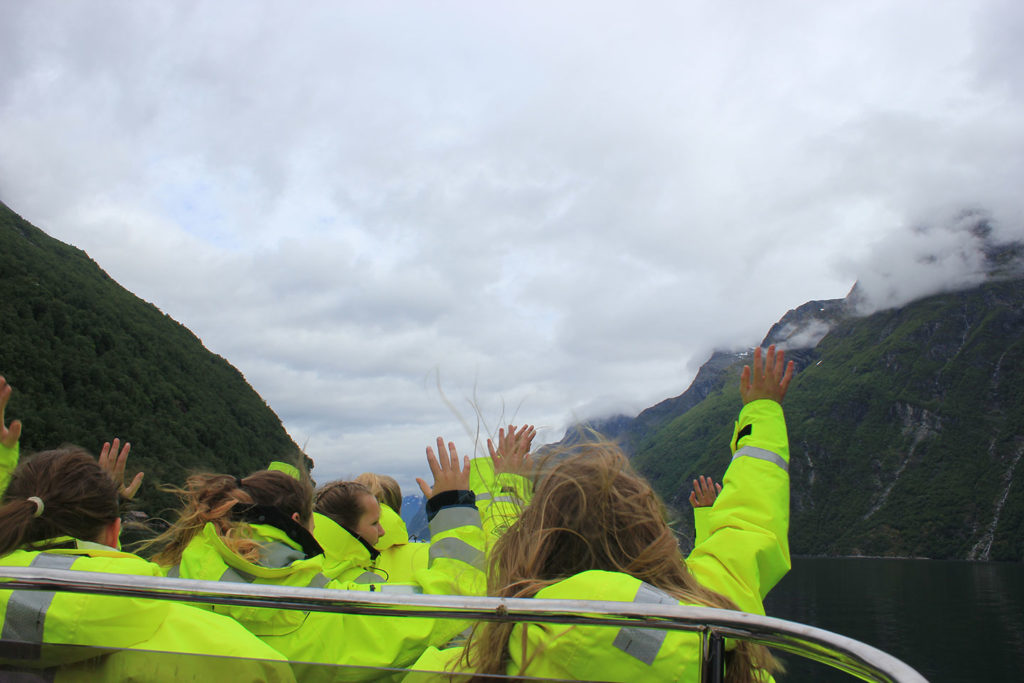 FREQUENTLY ASKED QUESTIONS
From where do you depart?
We have daily departures from both Havila Hotel Geiranger and Grande Fjord Hotel during the season which starts 1 May 2021. Please contact Geiranger tourist information or contact us directly for more information.
What is the advantage of a RIB tour?
Some of the beautiful sights in Geiranger can only be seen from the water, such as the Friaren waterfall. Friaren is a bottle-shaped waterfall located opposite the Seven Sisters. Friaren means "suitor", and legend has it that the Suitor made numerous proposals to the Seven Sisters and was given countless refusals.
Dejected, the Suitor turned to drink, hence the bottle-shaped waterfall was given the name Friaren. Want to hear more local history? Join us on one of our tours and experience the Geirangerfjord in full bloom.
What time of year should I take a boat trip?
The Geirangerfjord is majestic in all seasons, whether the sea spray is high or the sun is out warming the air. It is worth noting that melting snow and precipitous conditions determine how clearly you see the Seven Sisters and the other waterfalls. May to June is the best suited for waterfall sightseeing, and the season for our tours is May to September. Contact us if you have planned an off-season trip to see if there are other options.
Can I book a ride in the electric boat?
You certainly can if it is available on the day you want. Please contact us well in advance when booking to ensure that we can fit you in the electric boat, or check vacancy during the booking season here on our website. You'll get closer to nature than you think – our electric boats have a long range and the only sound you'll hear is from nature itself. This is a truly unique experience and a first-class example of environmentally conscious tourism.
Am I safe aboard a RIB boat?
Due to damage related to ocean rafting, RIB boats have gained a frayed reputation that is difficult to shake. However, Bonseye does not do sea rafting – the Geirangerfjord is a closed fjord system with small waves. Since our inception in 2015, we have not had a single injury among either passengers or crew. Additionally, each passenger is insured through Gjensidige. In other words, there's nothing to worry about.