The best way to experience the Geirangerfjord is undoubtedly up close. If you choose to take your sightseeing tour aboard a traditional, large tourist boat, you will miss out on a unique nature experience. If, however, you choose our smaller, more environmentally friendly and faster boat, you will get so close to nature that we call it "having a spectator seat in the front row." Choose nothing but the best option in Geiranger: boat through Bonseye.
An adventure without exhaust
It has been decided that by 2026 Geirangerfjord will be emission-free. Bonseye is very excited by this. We have chosen to invest in emission-free RIB boats. To date, we have an electric boat and a low-emission boat, with two more low-emission boats in production. This will greatly reduce pollution to the local environment. On a trip with us, you can experience the Seven Sisters, the Friar, and the Bridal Veil up close in an open RIB boat that leaves no trace behind.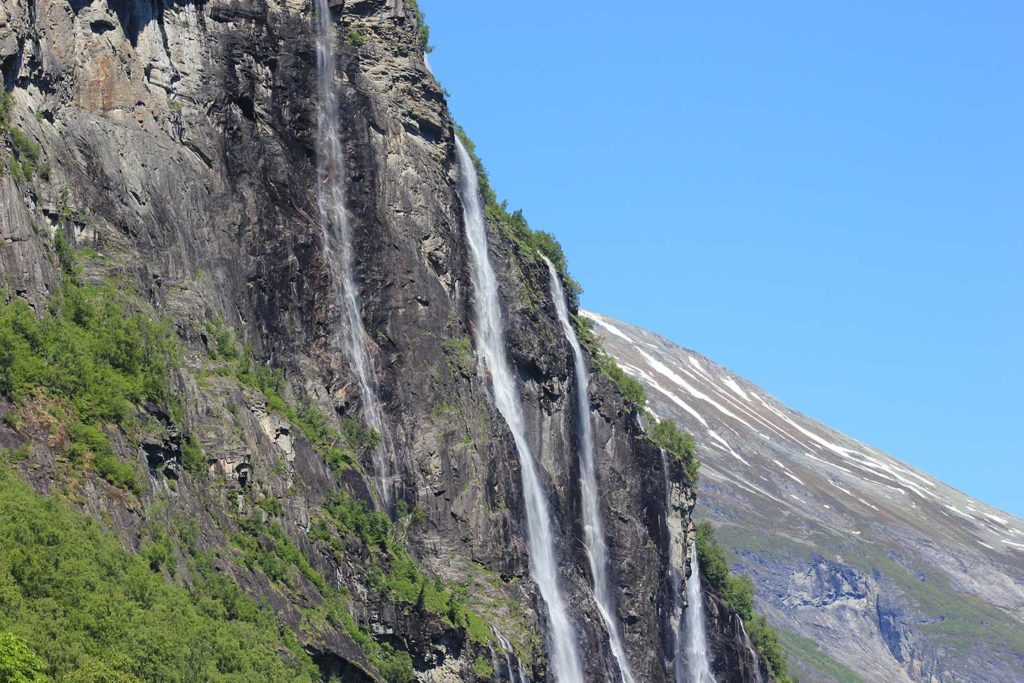 Let's take you on a journey you will never forget
Our boat trips last for an hour, with about half the time devoted to guiding. Our experienced and extremely committed guides will take you on a journey through time and nature. You will end your trip with fond memories, incredible photos, and stories you'll want to share with the rest of the world.
Contact us today to book your experience. We look forward to showing you the Geirangerfjord from its most beautiful side. You can reach us by calling 479 63 091, sending an email to post@bonseye.no , or by booking directly on our website.
Frequently Asked Questions
Will you drive particularly fast during your trips?
Bonseye can run faster than the usual sightseeing boats, due to the size and construction of the boats. But, you don't have to worry that you are booking a ride in a racing boat. We take our time to let you see everything the Geirangfjord has to offer. Our local guides also have interesting stories of the region that date from the 17th century to the present day. Expect an adventurous journey back in time into the world of the fjord landscape in modern, high-tech boats.
Can I book a boat trip even during the pandemic?
It does not appear that world situation will change anytime soon, and that we must adjust to a slightly different everyday life for some time to come. At Bonseye, we always keep up to date with all applicable rules and guidelines. We certainly do not want to expose our customers to any kind of risk of infection. You can safely book a boat trip in the Geirangerfjord, but infection control rules will dictate how the trips are conducted and whether there may need to be postponements/cancellations. It may be that the maximum number of passengers allowed could be affected, or if the local community has an active outbreak of infection, it may be that visitors are discouraged. We will always inform our customers if something like this occurs, and you will, of course, be refunded what you have paid for the trip should there be a cancellation. If you have any questions, you are welcome to contact us to directly hear more about infection levels in the area and our infection control routines.
What does a guided tour mean?
The Geirangerfjord offers magnificent scenery. We offer fjord sightseeing that includes the well-known majestic waterfalls of the Seven Sisters, the Friar, and Bridal Veil. You can enjoy a quiet walk packed with local history and beautiful nature. At Bonseye, we are concerned with environmentally friendly alternatives and currently have an electric boat and low-emission boats. We take orders for everybody from families to individuals, businesses, and others.
Are RIB boats safe?
Due to damage related to ocean rafting, RIB boats have gained a frayed reputation that is difficult to shake. However, Bonseye does not do sea rafting – the Geirangerfjord is a closed fjord system with small waves. Since our inception in 2015, we have not had a single injury among either passengers or crew. Additionally, each passenger is insured through Gjensidige. In other words, there's nothing to worry about.