Do you love exciting experiences in the beauty of nature. Then we can definitely recommend a boat trip in the Geirangerfjord. By choosing Bonseye for your next sightseeing tour in Norway, you will experience the best the Geirangerfjord has to offer with an experienced guide behind the helm. This is a unique way to experience the world-renowned fjord, because you can't get much closer to nature. If you want an adventure completely out of the ordinary, book a trip in a RIB in Geiranger!
A holistic experience
Here you will get close to familiar and beloved nature experiences, such as the waterfalls of the Seven Sisters, the Friar, and the Bridal Veil. You'll also see other attractions up close. You will experience historic mountain farms along the Geirangerfjord while our skilled guides share their detailed knowledge of local life lived over several generations. With luck, you'll meet both eagles and porpoises along our way as you listen to various animal stories that are a regular part of our guided tour.
Focusing on the environment
In 2005, the Geirangerfjord was added to UNESCO's famous World Heritage List, which makes the fjord particularly important to preserve for future generations. This is something that Bonseye completely agrees with, and we have assumed the responsibility of ensuring that nature is not destroyed by the boat trips. We have chosen to invest in environmentally friendly RIB boats, some of which are electric and completely emission free and others that are low-emission boats. These are quiet boats with a lot of power, but they can be operated without a guilty conscience. There are decisions to make the fjord completely emission-free by 2026, and Bonseye is an active participant in this development.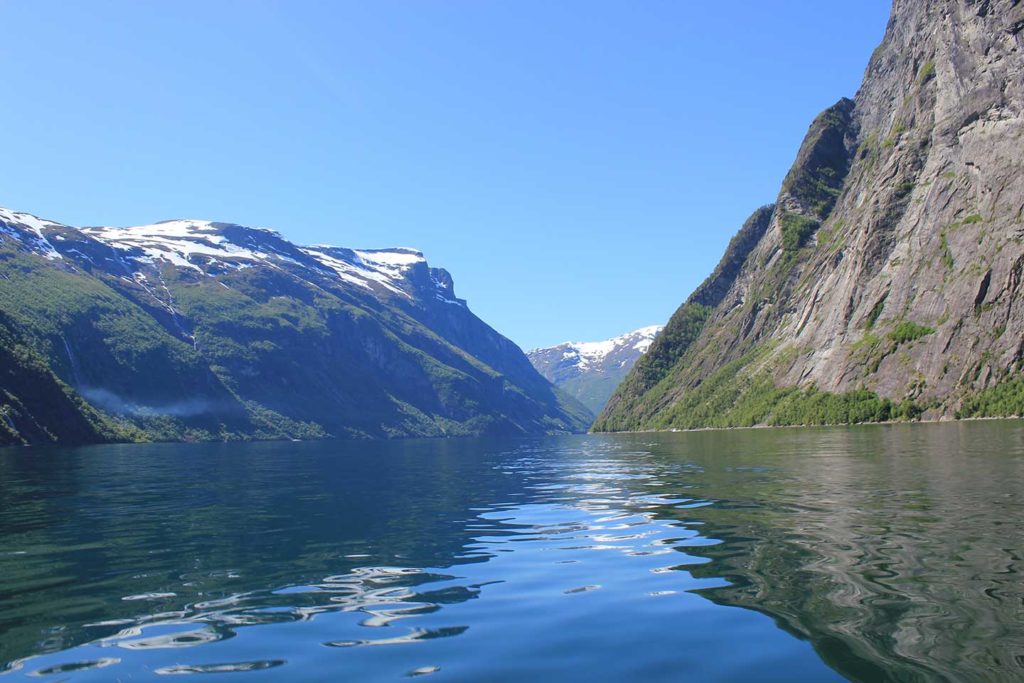 We'll take you back in time
When you book a ride with us, you will be guided by some of the local community's best and most engaged ambassadors. Our guides have detailed knowledge of the local history in the Geiranger area, so you will get a unique insight into life on the farms along the Geirangerfjord. Book a trip in a RIB in Geiranger for breathtaking scenery, fresh sea spray, and most of all, for a complete and unforgettable experience.
Would you like to book a boat trip in Geiranger? Contact us by phone +47 479 63 091, send an email to post@bonseye.no , or book directly on our website. Should you have any questions or special requests, such as prices and availability, please feel free to contact us directly. We look forward to hearing from you!
FREQUENTLY ASKED QUESTIONS
How much does a trip cost with you?
We have very competitive prices – you'll be surprised to hear that an unforgettable RIB tour costs as little as 349 kroner. You can find more information about prices and availability when you place an order on our website. Need to plan a company trip or for a large group? Feel free to contact us directly for booking.
From where do you depart?
We have daily departures from both Havila Hotel Geiranger and Grande Fjord Hotel during the season which starts 1 May 2021. Please contact Geiranger tourist information or contact us directly for more information.
Is there anything else to see while I'm in the Geiranger area?
The are around Geiranger is so beautiful and special that is considered worthy of protection. You can take a hike through the Geiranger town center, and maybe enjoy a snack along the water with the fjord as a view. Speaking of views, the flydalsjuvet viewpoint is also worth a visit. If you are driving to Geiranger, other Norwegian renowned attractions, such as Jostedalsbreen and Trollstigen, will be exciting to see.
How's safety?
Due to damage related to ocean rafting, RIB boats have gained a frayed reputation that is difficult to shake. However, Bonseye does not do sea rafting – the Geirangerfjord is a closed fjord system with small waves. Since our inception in 2015, we have not had a single injury among either passengers or crew.
Additionally, each passenger is insured through Gjensidige. In other words, there's nothing to worry about.