Have you always had a dream to see more of Norway? Surprisingly, many Norwegians have not yet experienced what is considered the world's most spectacular nature (Norwegian nature). One of these jewels is the Geirangerfjord, which must be both seen and experienced. It's essential that you take a boat trip in Geiranger during a visit.
Why choose Bonseye?
There are a number of boat trip providers in Geiranger, but Bonseye stands out in several areas:
Environmentally friendly: For Bonseye, the boat trip should not only be the best way to experience the Geirangerfjord, it should also be in the best interests of nature. We have therefore invested in environmentally friendly alternatives, and to date we have an electric boat and a low-emission boat. Two more low-emission boats are in production, and we aim to get these on the water during the year. You can enjoy a trip to Geiranger without a guilty conscience. In addition, the new boats hardly make waves, therefore not a nuisance to everyone who kayaks.
Quiet: The amazing thing about electric boats is that, like electric cars, they are quiet. In other words, you don't have to be bothered by loud noises and can take in all the natural sounds along the fjord.
Experience: Bonseye has local guides and long and broad maritime experience. It allows you to feel safe and cared for as you whizz past the Seven Sisters, the Friar and the Bridal Veil.
Locals: Our guides live on a mountain farm 300 meters above the fjord, and have a vivid interest in those who lived in similar places along the fjord. With storytelling, we connect the past and the present; through exciting stories that started 9,300 years ago and continue today. In other words, not only do you get to experience nature at its best, but you also a gain a unique view of the Geirangerfjord through the stories.
RIB boats: While some outfitters prefer larger boats that can transport as many people as possible, Bonseye wants to give its customers a different experience. If you choose us, you will get close to nature in an intimate setting with a maximum of 12 people in the boat. You can ask the guides questions you are wondering along the way, as well as get a sightseeing tour with some excitement.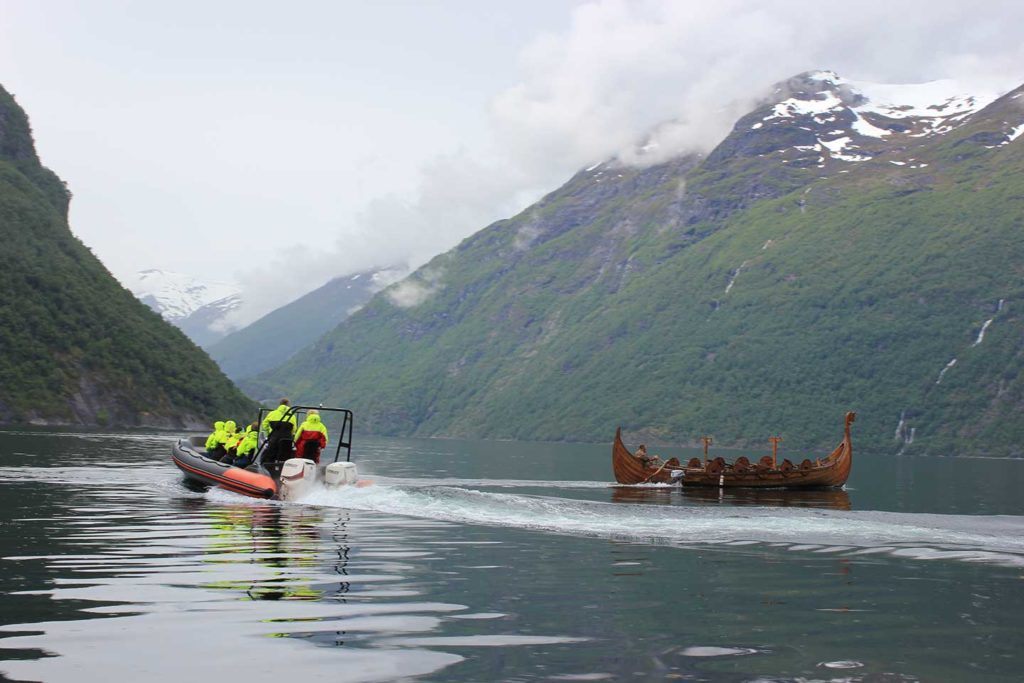 Don't Miss Out on a unique experience.
Surprise your family or friends with a 1-hour boat trip in Geiranger. Should you receive visitors from abroad, we also have guided tours in English. If you know when you want to take the trip, you can easily see what tours are available here on the website. You will find both time and prices and can book a tour directly via the online store. Should you have any questions, we'd love to hear from you. Contact us by phone +47 479 63 091, send an email to post@bonseye.no , or send a message on Facebook.
FREQUENTLY ASKED QUESTIONS
Can I book a boat trip even during the pandemic?
At Bonseye, we always keep up to date with all applicable rules and guidelines. We certainly do not want to expose our customers to any kind of risk of infection. You can safely book a boat trip in the Geirangerfjord, but infection control rules will dictate how the trips are conducted and whether there may need to be postponements/cancellations. It may be that the maximum number of passengers allowed could be affected, or if the local community has an active outbreak of infection, it may be that visitors are discouraged. We will always inform our customers if something like this occurs, and you will, of course, be refunded what you have paid for the trip should there be a cancellation. If you have any questions, you are welcome to contact us to directly hear more about infection levels in the area and our infection control routines.
What kind of stories will the guides share?
Life on the abandoned mountain farms along the Geirangerfjord could be hard and perilous. Here joy and sorrow went hand in hand. On the guided tours with Bonseye, we try to convey various glimpses of these lives, from wedding parties with buggy food tables, to illnesses and accidents, from mowing work to winter challenges. Many of the farms have been restored and can be seen from the fjord, while others have been taken by avalanches, rockslides, and landslides and thus lost to posterity. But village books, enthusiasts who met the last people who lived on the farms, and public archives tell their stories, and are our sources for real stories of, and by, real people.
How long do your boat trips last?
If you book a trip with us, you will enjoy an hour of fjord sightseeing. Because our tours take place in RIB boats, you will get more out of a trip than if you choose a regular sightseeing boat, as our boats are much faster and bring you closer to nature.
Will it be cold in a RIB boat?
It may sound cold, but when the sun is shining and summer is at the door, it will be wonderfully warm in Geiranger. Of course, we don't expect the sun alone to be enough, and there are rainy and cold days too. So, you will be given a floatation suit before we embark on the fjord adventure, which is sure to keep you warm and dry throughout the trip.
Where can I find pictures from the boat trips?
In addition to the photos we have here on our website, you can find even more on Instagram. We use the platform to show you exactly what to expect if you embark on an adventure with us. Need convincing? Let the pictures speak for themselves!
Is it safe to ride in a RIB boat?
Due to damage related to ocean rafting, RIB boats have gained a frayed reputation that is difficult to shake. However, Bonseye does not do sea rafting – the Geirangerfjord is a closed fjord system with small waves. Since our inception in 2015, we have not had a single injury among either passengers or crew. Additionally, each passenger is insured through Gjensidige. In other words, there's nothing to worry about.