Do you want to ride in a RIB boat in Geiranger? At Bonseye we are proud to bring environmentally friendly and revolutionary boats to our beloved fjord, wanting to ensure that we leave no traces during or after our trips. No matter when in the season you plan your trip to Geiranger, we guarantee a unique nature experience in a close-to-the-water-surface open boat.
What does a RIB boat tour include in Geiranger?
By choosing Bonseye for your adventure tour, you can expect, among other things:
A full hour of boating and storytelling in Norwegian or English
A guide per boat, so you will always catch what is being said
An intimate tour, as each RIB boat can only 12 seats
Experienced boaters with broad maritime experience to keep you safe
Stops at world-renowned sites that include the Seven Sisters, the Friaren, and the Bridal Veil
Flotation suits that will keep you warm and safe and let you enjoy the tour without worry
A quiet ride, so you can listen to nature and not the noise of a motor
An environmentally conscious tour operator who has invested heavily in low-emission boats and emission-free electric boats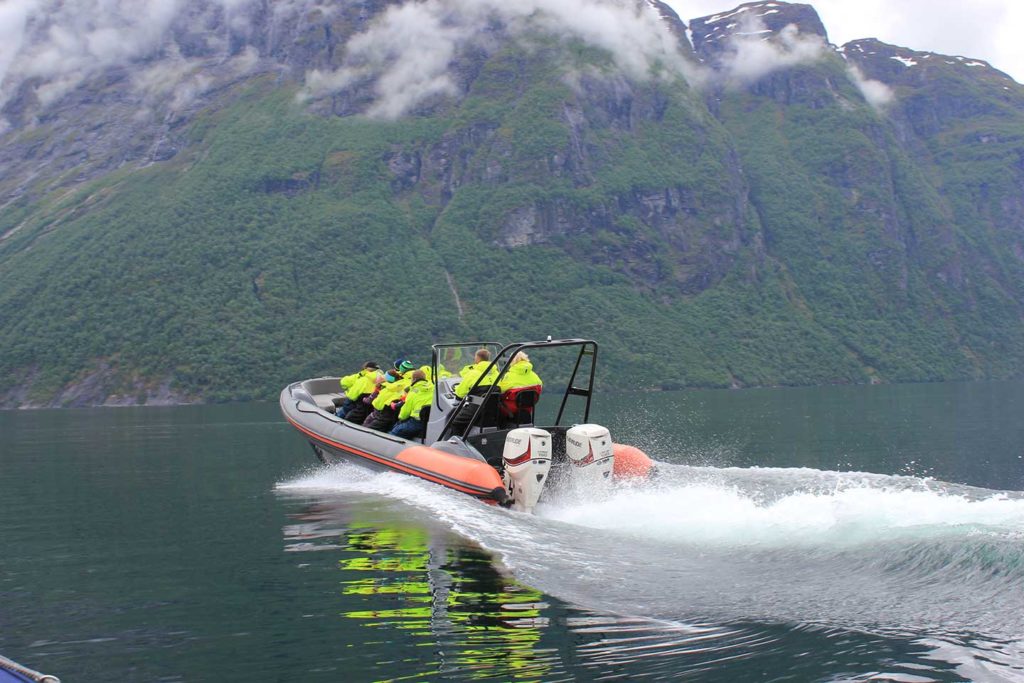 Book a ride
Contact us by phone +47 479 63 091, send an email to post@bonseye.no , or book directly on our website. Should you have any questions or special requests, such as prices or availability, please feel free to contact us directly. The season for fjord tours starts on the First of May and lasts until the end of September. We look forward to hearing from you!
FREQUENTLY ASKED QUESTIONS
Are you driving fast, or is it still possible to enjoy nature?
When we say that a trip on one of our RIB boats around Geiranger offers an adventure and fresh sea spray, we don't mean that we whizz past the attractions. On the contrary, we take our time to allow and your guests to admire the beautiful nature in peace and quiet. After all, that's why you've chosen to take a fjord trip with us. However, since we only offer trips in RIB boats, we do have the opportunity to travel faster from experience to experience than traditional tourist boats.
Why do you recommend fjord tours in RIB boats?
They are open, fast-moving boats that bring you close to the unique and strikingly beautiful scenery. You'll feel the fresh sea spray as the boat travels from one amazing natural landscape to the next. Dressed in a floatation suit to stay dry and warm, with your eyes wide open, and your camera at the ready, you'll have an experience that only a RIB boat can give you. You'll get much closer to the attractions and you will have a more intimate experience as there is only seating for 12 per boat.
From where do you depart?
We have daily departures from both Havila Hotel Geiranger and the Grande Fjord Hotel during the season, which starts on 1 May. Feel free to contact tourist information in Geiranger or contact us directly for more information.
Should I be concerned about security?
No, absolutely not. Due to damage related to ocean rafting, RIB boats have gained a frayed reputation that is difficult to shake. However, Bonseye does not do sea rafting – the Geirangerfjord is a closed fjord system with small waves. Since our inception in 2015, we have not had a single injury among either passengers or crew. Additionally, each passenger is insured through Gjensidige. In other words, there's nothing to worry about.
RELATED ARTICLES