In the Geirangerfjord there are several abandoned mountain farms that tell the story of the lives lived several generations ago. These stories about the hard and interesting lives will leave their mark. One of the most famous farms to visit today is the once prosperous Skagefla, a mountain ledge farm that offers breathtaking views.
Royal visit
In 1993, Queen Sonja and King Harold chose to celebrate their silver wedding anniversary at Skagefla in Geiranger. Royal guests from all over Europe made the trip to mark the big day and to enjoy the magnificent scenery 250 metres above sea level. It was with good reason that the royal couple chose this abandoned mountain farm chiseled from the mountainside in the fjord. This farm dates back to 1613, but it was probably settled much earlier.
Head to Skagefla with Bonseye
The visit to Skagefla starts with a boat ride from Geiranger to Skagefla. You'll be driven into the Geriangerfjord from the Geiranger town center to Skagehola where you will hop off and begin your journey up to Skagefla. The terrain is quite steep in some sections on the way to the farm, but the trail is well secured with railings and steps carved into the mountainside. This security means that this is a trip that can be done by most. The path to Skagefla is taken by many, including families with children. However, smaller children should always be accompanied by an adult.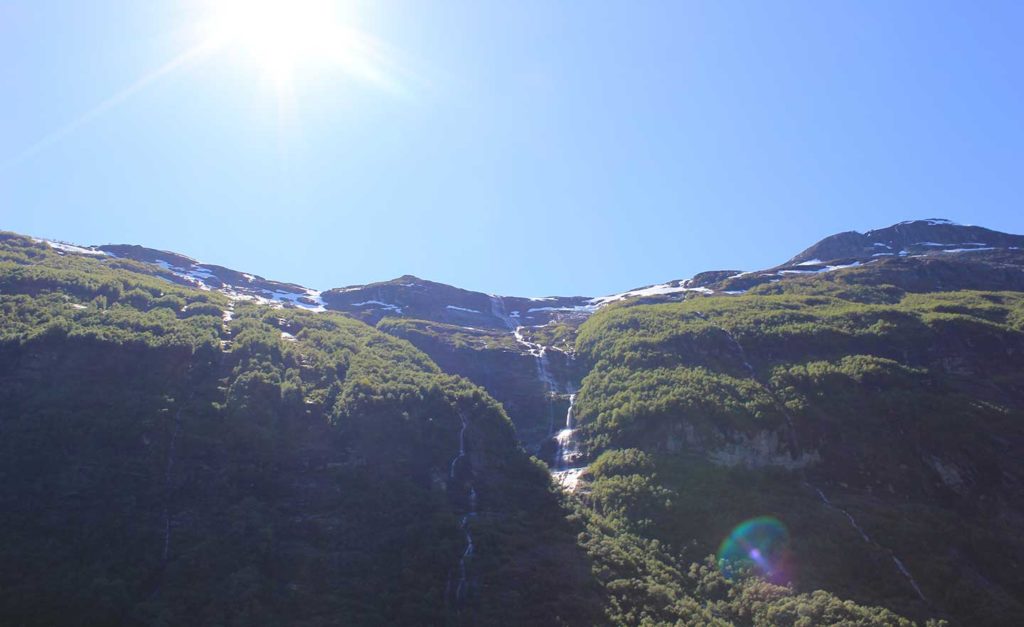 FREQUENTLY ASKED QUESTIONS
Can you walk from Skagefla to Homlongsaetra?
To continue from Skagefla to Homlong, you'll take a path that travels up from Skagefla along a path just inside the cliff edge to Homlongsaetra, which sits at 544 metres above sea level. You can expect to take between 2 to 3 hours for this ascent which has some open terrain. You can continue to Homlong, which usually goes at a faster pace, but gives you a unique hiking experience as you move close to cliff edge overlooking the fjord. There are several cultural artifacts along the way. This walk takes place at your own risk, so please make an assessment of your abilities before leaving and ask about conditions on trip day.
How do you get to Skagehola?
Skagehola is only accessible by boat. From there you walk up a path to Skagefla. Bonseye has three daily departures through the summer that depart from the Geiranger city centre – at 11:35 am, 1:05 pm, and 2:35 pm. We can also pick you up the the Grande Fjord Hotel upon request by contacting us well in advance by phone +47 47 96 30 91. It's an unbeatable feeling to sit in a boat headed out into the Geirangerfjord from the city centre, close to nature with sea spray all around you. We can transport you back if you want to return to Geiranger city centre or the Grande Fjord Hotel after your visit to Skagefla.
What do you need to take with you on your trip to Skagefla?
Bonseye takes care of all the safety needs for the boat ride from Geiranger to Skagefla. For the hike up to the mountain farm, it is important to dress according to the conditions, and to wear good shoes and clothes suitable to the weather. Feel free to bring food, especially if you intend to travel on foot past Skagefla towards Homlong. You'll want to stay hydrated, and there is a source of drinking water at Skagefla for you to fill your bottles. There is also and outdoor toilet at Skagefla, but bring your own toilet paper. And don't forget to bring a camera as there are plenty of opportunities to immortalize your beautiful nature experience.
Can you stay at Skagefla?
No, it is not possible to pitch a tent or otherwise spend the night in any way at Skagefla. However, it is possible to find several marked places to pitch a tent if you continue on foot up the mountain after reaching Skagefla. There are also accommodation options in Geiranger, where you can find hotels, cabin rentals, and camping areas. There are also several places to pitch a tent to enjoy the beautiful nature surrounding Geiranger.